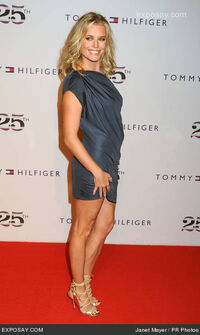 Rebecca Alie Romijn born November 6, 1972 in Berkeley, California, U.S., is an American actress and former fashion model.
Romijn went to the University of California at Santa Cruz between 1990–91, then in the summer following her freshman year she began her career modeling and did not return for her sophomore year. She modeled between 1991–2001 and began to act in 1997. Sience then she has been known for her role as Mystique in the X-Men films, Pepper Dennis with Eastwick actress Lindsay Price. And Alexis Meade in the television series Ugly Betty.
Rebecca is married to actor Jerry O'Connell sience 2007, and they have 2 children.
Rebecca Romijn - Internet Movie Database [[1]]
Rebecca Romijn - Fashion Model Directory [[2]]
Ad blocker interference detected!
Wikia is a free-to-use site that makes money from advertising. We have a modified experience for viewers using ad blockers

Wikia is not accessible if you've made further modifications. Remove the custom ad blocker rule(s) and the page will load as expected.